Monza, 22 March 2023
Play Off Scudetto, a damaged Itas Trentino beaten by Vero Volley in Monza during game #2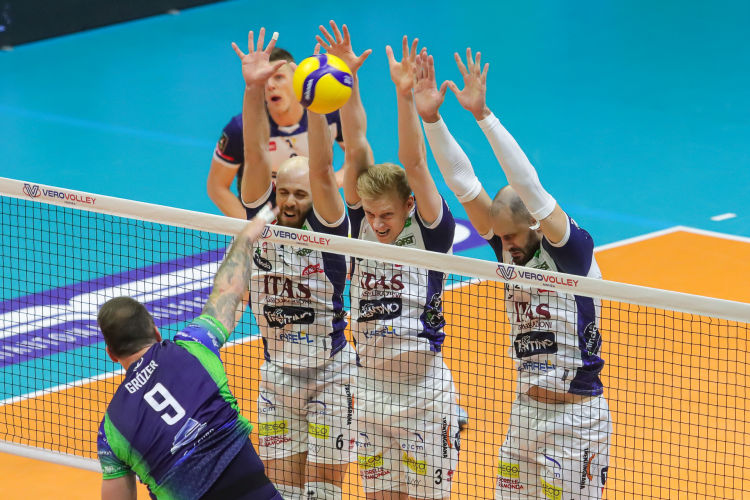 The home advantage turned out to be a winning weapon in game 2 of the Play Off Scudetto SuperLega Credem Banca 2023 quarterfinals. This time, Monza Arena was a big advantage during the second match of the quarterfinals: the hosts of Vero Volley Monza won 3-1 over a damaged Itas Trentino, restoring the tie score and thus determining another home match (game 4 on April 2nd).
The yellow-blue line-up, without Michieletto, Depalma and then Podrascanin (gastrointestinal issues for all three), with Lavia and Cavuto not at their best but benched with a background of eleven sets played in the past five days, tried anyway to do its best, but did not succeed in avoiding the defeat. A defeat due to the opponents' specific qualities but also to a lack of game mechanics derived from a line-up which has never been tried before in the forty official seasonal matches. Considered the many missing members, Lorenzetti had to take Kaziyski back to the role of hitter spiker (14 points), he also inserted Nelli as opposite and D'Heer as middle blocker and Džavoronok as wing (the best one with 18 points, a block, an ace and 53% in attack). This "makeshift" line-up struggled at first, especially in reception, but then managed to reply well to Monza, who was wild at block and in attack. That was the most beautiful part of the match was after the second set, that Trento lost sharply; under 0-2, Sbertoli and his teammates raised their heads again, winning the third set at the sprint and stayed on board until 18-20 of the fourth set.
Below is the scoreboard of game 2 of the Play Off Scudetto SuperLega Credem Banca 2023 quarterfinals, played tonight at the Monza Arena.
Vero Volley Monza-Itas Trentino 3-1
(25-21, 25-16, 23-25, 25-18)
VERO VOLLEY: Davyskiba 13, Beretta 9, Grozer 21, Maar 19, Galassi 4, Kreling, Federici (L); Szwarc 1, Zimmermann, Pirazzoli. N.e. Marttila, Pisoni, Magliano, Di Martino. Coach Massimo Eccheli.
ITAS TRENTINO: Džavoronok 18, Lisinac 9, Nelli 8, Kaziyski 14, D'Heer 5, Sbertoli 4, Laurenzano (L); Pace, Lavia 1. N.e. Cavuto, Berger, Bernardis. Coach Angelo Lorenzetti.
REFEREES: Cappello from Sortino (Siracusa) and Saltalippi from Città di Castello (Perugia).
SET DURATION: 26', 24', 31', 27'; tot. 1h e 48.
NOTES: 2.116 spectators, unknown proceeds. Vero Volley: 12 blocks, 9 aces, 14 hitting errors, 6 action errors, 53% in attack, 37% (18%) in reception. Itas Trentino: 8 blocks, 7 aces, 19 hitting errors, 0 action errors, 45% in attack, 45% (28%) in reception. Mvp Kreling.
Trentino Volley Srl
Press Office