Monza, 22 March 2023
Vero Volley Monza-Itas Trentino 3-1, the match #2 report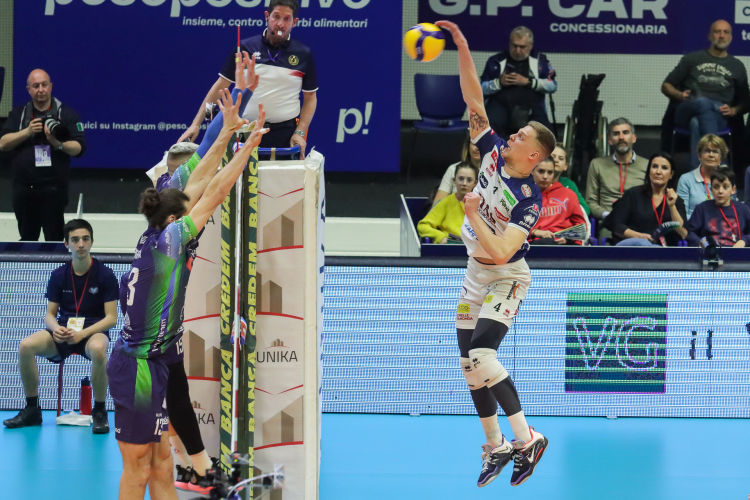 Match report. Itas Trentino gets in Brianza without Michieletto and Podrascanin (gastrointestinal issues) and with Lavia not at his best, that is the reason why Lorenzetti changes the line-up: Sbertoli as setter, Nelli as opposite spiker, Kaziyski and Džavoronok as hitter spikers, Lisinac and D'Heer as middle blockers, Laurenzano as libero; Monza replies with Kreling as setter, Grozer as hitter spiker, Dayyskiba and Maar in place 4, Galassi and Beretta as middle blocker, Federici as libero. The hosts hold the reins of the game during the break point phase, taking advantage of the attack difficulties of the yellow-blue team (1-3 and 1-5); the guests immediately use a time out. When the game restarts, things do not get better (5-9 and 6-12): the hosts keep on going wild at service, by defending every passage in the second line. Then Trento encounters further interactions during the sideout phase and attempts a comeback (10-15) until the -3 (15-18), thanks to Sbertoli's ace and D'Heer's block on Grozer. Vero Volley keeps its sideout phase-level high (18-21 and 20-23) and closed the set with Maar's attack against Nelli's block (21-25).
The second set starts in the same way as the first one, with Monza doing amazing in counterattack with Grozer and Maar, and an imprecise Trento in reception; on 1-5 Lorenzetti calls a time out and gain an important reply by his team, who immediately goes up to 4-6 and fight until 8-10; however, the team gets upset and starts making errors, and so left the door open to Vero Volley (12-18 and 12-21), who moves closer to 0-2 (16-25).
In the third set Itas Trentino starts wild at serve and counterattack (7-4 and 10-7), where Nelli and Džavoronok draw the attention. Trento also relies on D'Heer's service (two aces for 15-11) but then struggles to keep the advantage. Grozer and Meer score some points valid the tie for 18-18. Trento suffers the opponents' overtaking (Grozer's block for 19-20), but after the time out restarts strongly with Džavoronok and Kaziyski (22-21) and make the competition go further to the fourth set thanks to Nelli's ace worth the 25-23.
In the fourth set Vero Volley hold the service's reins again; Itas Trentino wavers, but does not give up and managed to make a -1 disadvantage (14-15) thanks to D'Heer's block and the sprints by Kaziyski and Džavoronok. Itas Trentino keeps on fighting until 18-20, does not take advantage of his comeback with Kaziyski and then leaves the court and the game in Monza's hands, who secured the match on 18-25 with Daviskiba, taking the series to the tie score.
Trentino Volley Srl
Press Office