Trento, 25 May 2020
Giannelli, what a week on FIVB and CEV social media for him!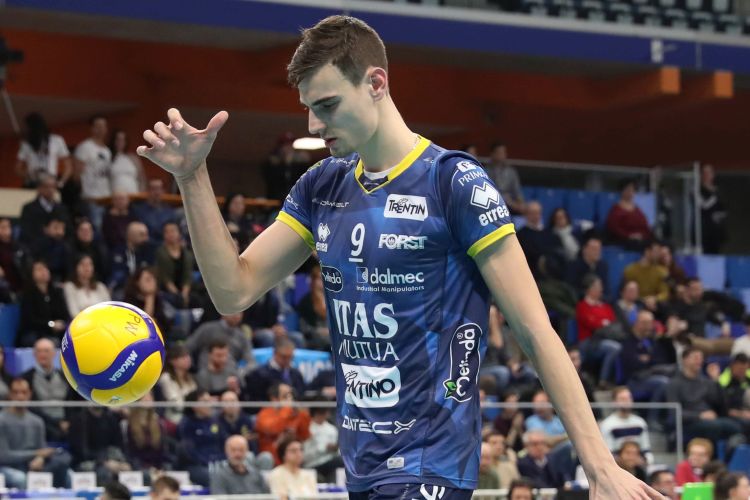 Although he hasn't played an official match for more than two and a half months, Simone Giannelli's popularity continues to remain high, as evidenced by the dozens of reports on the most diverse media (newspapers, magazines, television and websites) that saw him as the protagonist during the lockdown. In the last few hours a further confirmation has arrived thanks to the social profiles of the FIVB and the CEV; the communication of the week just started by the two international Federations and was about the setter and captain of Trentino Volley.
Until the end of May Simone will be the "Player of the week" for the FIVB and will therefore be featured on its YouTube, Instagram, Twitter channels with exclusive and spectacular content that will further increase its visibility.
For the social networks of the CEV Giannelli has instead accepted to participate in "The Ace Space", a particular podcast service in which, in video conference with the heads of communication of the European federation, he talks about himself but also about the development over the years of the role of setter. The first episode is already online at https://inside.cev.eu/en/brand/podcast/.
On Monday evening Giannelli told Lorenzo Dallari about himself through a long chat broadcast live from the journalist's personal Instagram profile. "During this last period I lived more as a university student than as a volleyball player - he explained - . I prepared and carried out some exams for the faculty I am enrolled in, obtaining grades that satisfy me: 25 out of 30 in Physics and 24 out of 30 in Anatomy. I chose to pursue this course of study because I believe that it is important to have something to do beyond Volleyball. Usually It' is difficult to me find the right dates to take the exams. So in this period I'm taking advantage of the absence of matches and focus on them. I am a Trentino Volleyball veteran, but the truth is that every season I always am the youngest one in the group. Covering the role of captain of this team is something that reserves responsibilities and duties, but I like it. There is much more work to do than raising cups when you win - or taking part in the pre-match draw. I still have a lot to learn but I am not giving up. Trentino Volley is an ambitious company, which has always tried to create competitive roses. If you play in Trento you are in a top club and that is why it is so respected. My goals? To win as much as possible, gratifying this Company which has welcomed me since I arrived in 2010".
Trentino Volley Srl
Press Office