Trento, 07 July 2020
BLM Group Arena, Giannelli: "It's great doing again what we love"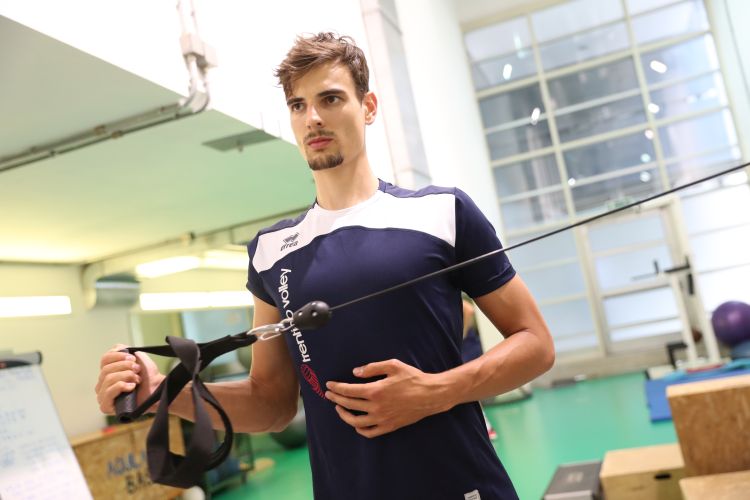 "Returning to the gym, putting on again the Trentino Volley training shirt: this was a wonderful feeling! finally we're back, doing what we love to do - explained the Captain of Trentino Volley Simone Giannelli the day after the start of the preparation - . "We are full of energies and happy. We have in our hearts the hope to see the fans again soon at the BLM Group Arena even though we know it will take some time. Indeed during these first few days we are dealing with all the anti-accounting measures, which are being observed with great rigour and attention. Only a very small number of people have access to the BLM Group Arena; we work in groups to keep the social distancing properly. We can't all train together but that's not a problem at the moment: for us it's already a lot to be able to start working again".
"This is the right time to carry out all the exercises calmly, focusing us on individual technique and physical preparation" - said the South Tyrolean setter - . "Then there is another important aspect to consider: to build up new relationships with the new players. Even going out to dinner together after a day of preparation can be a good way to facilitate the creation of team dynamics. And we do it gladly. The roster that the club is setting up is certainly good enough to win; Trentino Volleyball has always been able to count on competitive staff, but in the coming season we will be even stronger and more determined to try and win those trophies that we've been missing for some time. We want to show everyone who Trento is and how strong is our will to win".
After the opening session in the weight room (held on Monday) yesterday the players started to support individual technic sessions.
Trentino Volley Srl
Press Office