Trento, 15 January 2021
SuperLega, on Saturday on field at BLM Group Arena for round number 19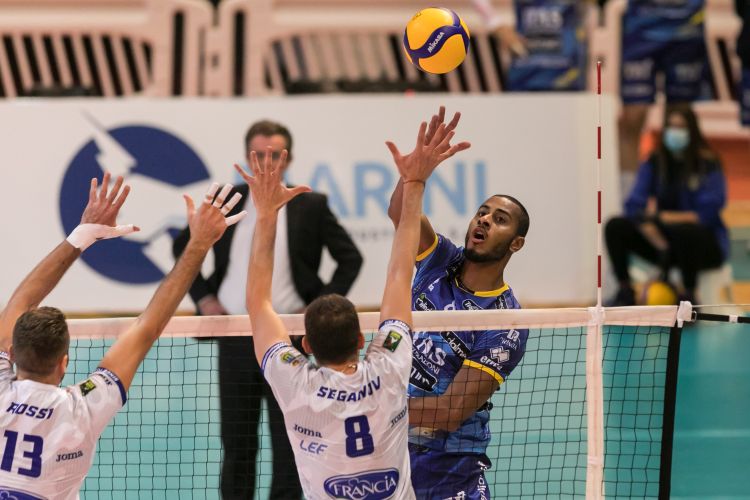 This weekend will be played round number 19 of SuperLega Credem Banca 2020/21. Also in this occasion, Itas Trentino will play one of two matches scheduled -and anticipated- for Sunday 16th January, against Top Volley Cisterna at BLM Group Arena in Trento. Starting whistle scheduled for 5 pm, live on Radio Dolomiti and live streaming on Lega Volley Channel www.elevensports.it (paying service)
HERE ITAS TRENTINO This match will be last one of this first mini-group of matches played since the beginning of 2021, a match every 3 days for Itas. The team lead by Angelo Lorenzetti will try once again to keep achieving more and more consecutive victories (the team was last defeated on 25th November, 1-3 against Vibo) and try to gain some mor points for the ranking before the final rush of regular season; Itas has to defend 3rd place on the ranking, next team they will face will be Tonno Callipo Calabria (on 24th January, on home field).
"Our goal is to keep on this victory path, but at the same time also to show some progress about our tactic, we haven't always shown a good pace - said Trentino Volley's coach - Our next opponent is a team that did not achieve as many points as is deserved, but it can count on very good players and they could show their ability during this match, not a hard one for them. Exaclty for this reason it is important be ready for the match and not being too confident".
Itas still can't count on Kooy (last Sunday he got an abs injury), the other players will train this afternoon and on Saturday morning, then they will try to win for 320th time on home field; during regular season, Itas got almost 202 victories on home field. The match with Cisterna will number 16 of the season on home filed (up to now 12 victories and 3 defeats) and number 38 of the season (21 victories).
THE OPPONENTS Thanks to the block of retrocession just approved by the Steering Committee of Volleyball Lega Serie A, Top Volley Cisterna can look at the end of the season with more tranquillity but also with a fixed goal: go back to victory (last one achieved was on 18th October, 3-1 against Monza) and try to obtain 11th place on the ranking- last one that could allow the team to play the Play Off Scudetto. Despite the hard work of the summer, the team had to face a coach's change (once Tubertini , now Kovac) and some physical prblem that did not let the team develop as planned. Indeed the team only achieved 5 points and is now on last place of the ranking, such a pity for a team that worked a lot! Among the players, the Polish middle blocker showed some good abilities also as opposite having had to play as substitute for Sabbi (best in defensive role with 204 points and also 12th best attacker of the tournament), Krick (8th best blocker) and the hitter spiker Tillie, who confirmed being very good in second line (4th in reception according to the average).
PREVIOUS MATCHES Together with Verona, Top Volley Cisterna is the 5th team that has played more matches against Itas: 40 official matches. Only Civitanova (77), Modena (76), Piacenza (58) and Cuneo (47) played more times. Itas won 32 times, the other team only 8. For 12 times consecutively Itas has been winning. The last victory for the opponents was on 13th April 2014 (1-3 in Trento), the match was valid for playoff for place numer 5. At BLM Group Arena, the other team only won 2 times (out of 20 matches played) and always after 4 sets: on 1st December 2002 and on 6th January 2007. Latest match played in Trento was on 7th November 2018 (3-0 Lisinac mvp), while during first round the match was played on 1st November 2020 in Cisterna, Itas won 1-3 and the sets 17-25, 20-25, 25-22, 24-26; Nimir was protagonist with 19 points, 52% in attack and 4 ace.
REFEREES The match will be directed by Roberto Boris (from Pavia - in Serie A since 1997 and international since 2010) and Alessandro Rossi (from Ventimiglia, in Serie A since 2016), for Rossi this will be his very first match in SuperLega. While for Boris it will be 8th match during the season in regular season, second with Trentino Volley- last one was on 6th December, victory at tie break in Verona.
RADIO, INTERNET E TV The match will be told live by Radio Dolomiti starting from 5 pm, the speaker will be Stefano Piffer. Radio frequencies can be found on the website www.radiodolomiti.com, there it will also be possible to listen to the chronicle live.
It will be possible to watch the match streaming on "Lega Volley Channel" www.elevensports.it - paid service.
On Tv catch-up on Monday 18th January at 9.30pm on RTTR, tv partner of ITAS TRENTINO.
On the net is possible to follow the news of the match point-to point (www.legavolley.it) and on www.trentinovolley.it and on the Social Network www.trentinovolley.it/facebook, www.trentinovolley.it/instagram and www.trentinovolley.it/twitter).
NO SPECTATORS ALLOWED TO BLM GROUP ARENA According to the new measures of the atest DPCM, no spectators will be allowed to the arena, only personnel or staff will have the possibility to enter.
Trentino Volley Srl
Press Office