Trento, 09 April 2021
From 22nd April Giannelli in all bookstores with his book "My first volleyball manual"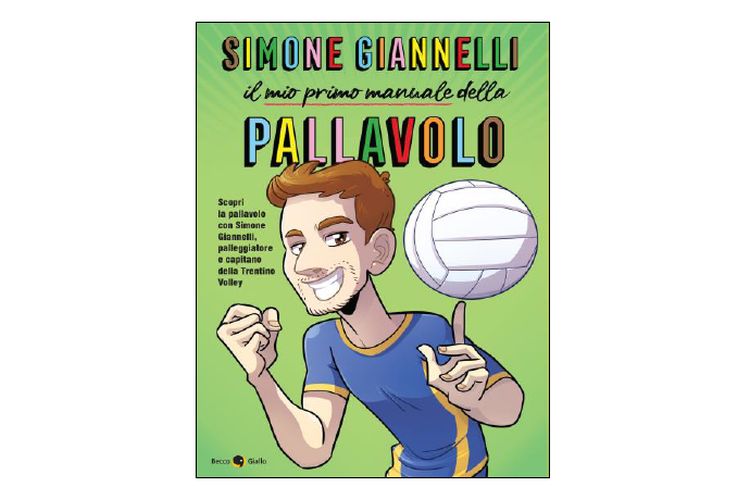 After having often been the protagonist in newspapers, magazines, television, and radio programs, the Captain of Trentino Volley Simone Giannelli is preparing to land in… bookstore too! From Thursday 22nd April, in the main bookshops (also digital) of Italy, it's possible to buy "My first volleyball manual", a comic book published by BeccoGiallo featuring the South Tyrolean setter who grew up in the gialloblù nursery.
Through the tables created by the illustrator Salvatore Callerami, on the scenes conceived by Emanuele Apostolidis, Simone will guide readers to the discovery of a sport on the rise like volleyball, talking about rules, curiosities, and champions that have made history, but above all focusing on values that should distinguish every sportsman: team spirit, the importance of knowing how to accept defeats, and the ability to manage one's emotions.
It's not going to miss the fun and a real comic strip: dressed as a superhero, Giannelli will have to juggle between amazed characters, fantastic adventures, and magical powers, again trying to bring home the victory. The reference world is that of ancient Greece and Atlantis, a legendary island on which volleyball was obviously very popular. Simone's mission will be to guide his new friends, between superpowers and incredible adventures, to discover the rules but above all the ethical values that distinguish volleyball and, more generally, any sport.
"My first volleyball manual" summarizes all the lessons that a very young volleyball player should know when they approaches this sport. To further embellish the book there are the cards that Captain Gialloblù wanted to dedicate to the training of young volleyball players, providing them with brief but very useful tips to better face their days on and off the field. The main focuses are dedicated to rules, game strategies, and proper nutrition, a subject that Simone, graduating in Nutrition Sciences, has particularly at heart. The book closes with a series of curiosities about the world of volleyball and a tribute to the greatest volleyball players of the past and present, including Bernardi, Cacciatori, Gardini, Giani, Lo Bianco, Piccinini, and Zorzi.
It is possible to pre-order the book on Amazon by clicking this link.
Trentino Volley Srl
Press Office