Trento, 28 May 2021
The GM Da Re on RTTR: "At work to build a young and competitive team"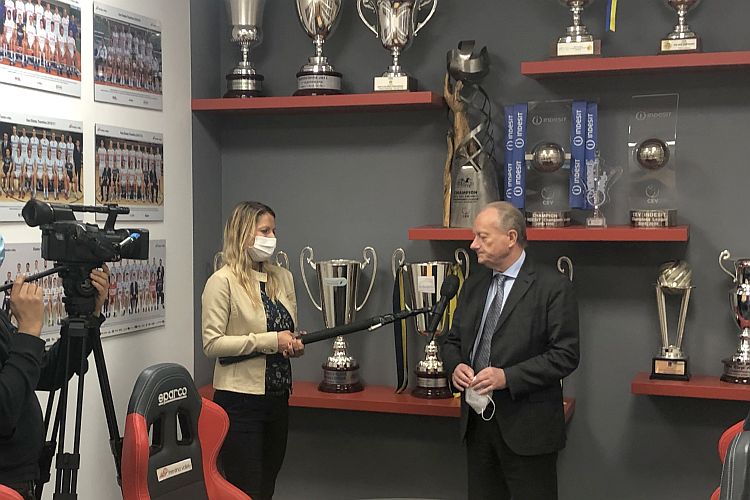 The General Manager of Trentino Volley Bruno Da Re has intervened on Thursday evening in the TV show of RTTR "Trentino in diretta". Here are some of the most interesting points of the interview hosted by Sara Ravanelli for the media partner.
MARKET. "The transfers officialised in the latest days will be followed by some others, but we are at work to build a team that I hope will still be likeable, very young, interesting, and competitive. There will be therefore the possibility to have a Trentino Volley that plays at the highest levels; our idea is to not disappear from volleyball, also because we aren't in a bankruptcy situation. We have only decided to reduce the economic effort, maintaining, in any case, a team that will entertain the audience and will remain, with tooths and nails, on the first places of the ranking".
AUDIENCE. "The 2021/22 championship of SuperLega will probably start at the firsts of October, a moment in which the vaccination process of the population may have made great progress, in order to allow the arenas to be reopened to fans and enthusiasts. I can speculate that there is going to be a sort of green pass that will allow vaccinated people to enter the BLM Group Arena, but what I want to promise from now on to our fans is that we will create a team with highly feasible players, who will give great satisfactions to the City, the Company, and the fans".
CITY SPORT. "With the promotion of AC Trento 1921 in Serie C, a city like this, basically very small, can count on four Club of the highest level in team sports. An evident sign of great hard work and managerial ability. Form a sports club? Behind an operation of this kind, there must be a general idea, a philosophy, which currently is different from bringing together four companies that have different origins. In Treviso, at the time of Benetton Rugby, Benetton Basket, and Sisley Volley, there was Benetton's family who had realized a joint project and had started from that project. Instead, here in Trento, until now these four Clubs have worked on their own to reach high levels and it is unlikely that they come together, even if something is desirable to happen because everything is quite fragile and relies on private entrepreneurship. It will be difficult to plan a future in which all the realities".
Trentino Volley Srl
Press Office