Milan, 09 October 2021
Preparation closed with the five sets played in Milan at the Allianz Cloud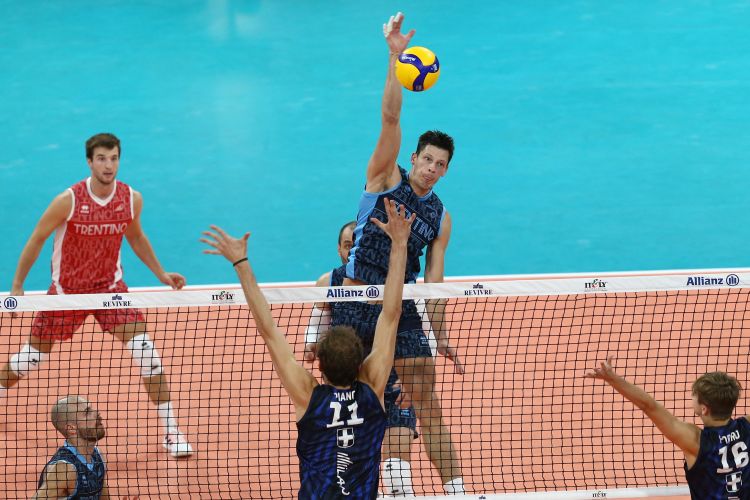 Itas Trentino sends in archive its pre-championship with the five sets played this afternoon at the Allianz Cloud in Milan in the joint-training with the hosts of Powervolley (at rest in the first round of the championship). The test match has seen the yellow-blue losing by 1-4 at the end of almost two hours of game in which the hosts have shown better physical condition and more determination in attack.
Itas Trentino started with the right spirit (8-4, 16-14), suffering though a decrease in reception and attack in the final part of the first set and during all the second set. In the other sets, the game protracted on point to point, excluding the fourth set, clearly won by Itas Trentino. During the match, Lorenzetti tried out more tactical solutions, finding in Pinali (12 points with 50%) and Lavia (best yellow-blue scorer with 17 points, 48% in attack, and three aces) the most continuous elements. Very positive also the performance of Michieletto, who scored 9 times in two sets with 73% in the net (8 out of 11), and an ace.
Below the report of the joint training played this afternoon at the Allianz Cloud in Milan.

Allianz Milano-Itas Trentino 4-1
(25-22, 25-16, 25-19, 14-25, 25-23)
ALLIANZ MILANO: Djokic 5, Chinenyeze, 11, Patry 19, Jaeschke 20, Piano 4, Porro 5, Pesaresi (L); Maiocchi 5, Romanò 11, Mosca 2. Did not play: Staforini, Ishikawa, Daldello. Coach: Roberto Piazza.
ITAS TRENTINO: Pinali 12, Kaziyski 7, Podrascanin 6, Sbertoli 1, Lavia 17, Lisinac, 4, Zenger (L); Sperotto, Michieletto 9, D'Heer 6, Cavuto 9, De Angelis (L), Albergati 5. Coach: Angelo Lorenzetti.
SETS DURATION: 23', 19', 21', 18', 22; tot. 1h and 43'.
NOTES: Allianz Milano: 8 blocks, 8 aces, 22 service errors, 8 action errors, 50% in attack, 51% (27%) in reception. Itas Trentino: 8 blocks, 8 aces, 26 service errors, 5 action errors, 50% in attack, 53% (18%) in reception.
Trentino Volley Srl
Press Office