Trento, 12 October 2021
Itas Trentino-Verona Volley 3-0, the match report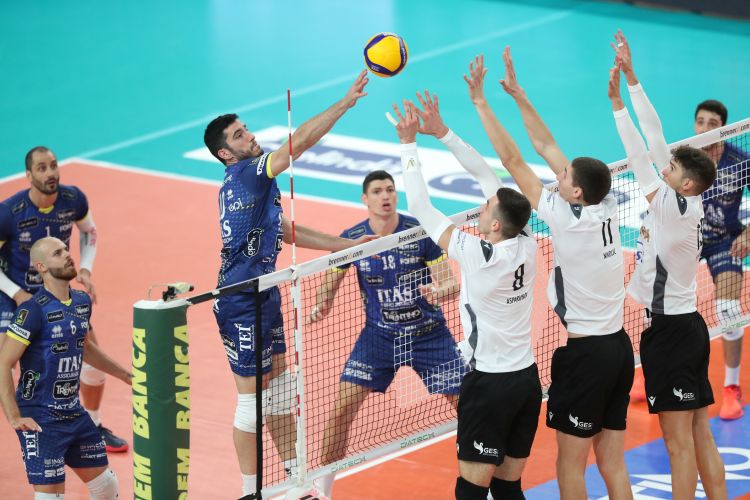 The match report. For the first official match of the season, Angelo Lorenzetti lines up Sbertoli as setter, Pinali as opposite spiker, Lavia and Kaziyski as spikers, Lisinac and Podrascanin as middle blockers, Zenger libero. Radostin Stoytchev, a famous former coach, responds with Spirito as setter, Jensen as opposite spiker, Asparuhov and Mozic as spikers, Nikolic and Cortesia as middle blockers, Bonami libero. The first double starting point is by Matey, who within few seconds blocks Jensen and then Mozic (5-3); at the festival of the fundamental Lisinac adds himself (7-4), forcing the opponents to use the first time-out of their championship. At the restart, Kaziyski scores three almost consecutive aces and makes the hosts take over (11-4); Stoytchev uses another time-out and has a reaction by his team, signed by spikers (14-10), making his counterpart interrupt the game. Itas Trentino restarts with a block of Podrascanin (16-10) and then with a counterattack of Kaziyski (20-14); it's Lisinac in attack to protect the advantage until the end of the set (25-16).
At the start of the second set, the game returns to be balanced, also thanks to the guests who do well in the change-ball phase (5-5 and 8-8). Even later Itas Trentino struggles to shake off the opponent (12-12), until Lisinac and Kaziyski do it with two fantastic actions (16-13). Verona tries to reopen the match (18-16), but Lavia increases the gap (21-16), backed up well by Pinali. In the best moment, the yellow-blue turn off the light: Verona bites at the service but Trento makes too many mistakes in attack, suffering 1-5 and so the game returns to be balanced (22-22). Verona makes the advantage with Mozic (24-25); Kaziyski and Lavia cancel three set points (27-27), then Michieletto, just entered, signs the overtaking (28-27), which Matey seals with an ace (29-27).
The arm wrestling between the two teams starts again in the third set, the moment in which Trento tries to flee (from 6-6 to 9-6) but the opponent closes almost immediately the gap (11-10). The central part is played again point-to-point (13-12 and 15-14) and this time is Podrascanin (attack and block on Qafarena) to try to launch the team towards the final winning rush (17-15), also backed up by a block of Sbertoli (20-18). Verona, with Raphael on the field for Spirito, doesn't agree: after the time-out of Stoytchev, it scores (20-21), causing a shiver to run down the back of the yellow-blue fans. Michieletto restores the right distances with a counterattack (23-21), which Lavia capitalizes on the second occasion (25-23).
Trentino Volley Srl
Press Office