Trento, 28 November 2021
Lorenzetti on RTTR: "Our championship so far is in line with the expectations"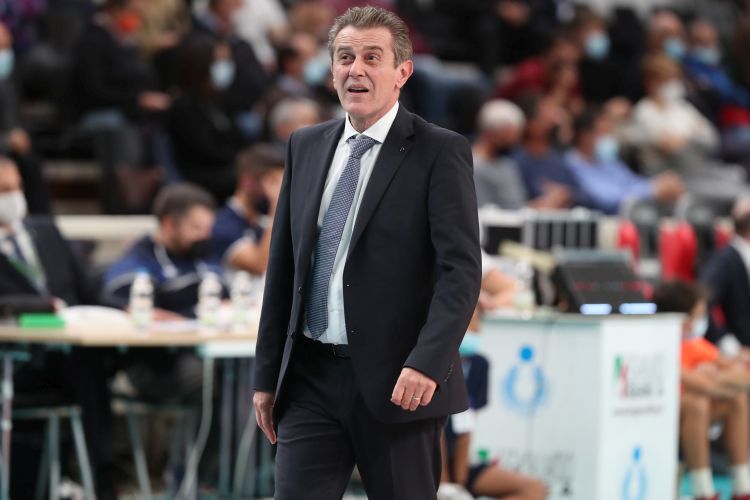 Trentino Volley coach Angelo Lorenzetti spoke this evening in a video link to "Domenica Sport", the weekly program of media partner RTTR, talking about his team's moment.
"It's a very intense period and we're getting ready to experience in a few days an even longer and more delicate one, between the Champions League debut and the World Club Championship - he explained - . We have tried to take advantage of these last four days to recharge our batteries and to put some gas in the tank that was almost in reserve. Our championship so far is in line with the expectations we had before the start of the season, both in terms of the rankings and the playing system we are developing. The basic formation is the one that has three middle hitters on the court at the same time; it takes time to develop this idea but the first results are definitely positive, without forgetting that, at the same time, we must also pursue a classic alternative that involves the use of a pure opposite hitter. I'm happy and satisfied with the group we have at our disposal; the mix of experienced and young players is proving to be right, I see in training a great desire to grow and the right spirit.
"We will be making our debut on Thursday night in Perugia in the Champions League in a group where we will inevitably have to play well against opponents like Fenerbahce and Cannes if we want to stay in the running for qualification to the quarters - continued Lorenzetti - . We have been inserted in a Pool that includes a very strong team like Perugia, against which we will always try to give our best to collect points, but it is obvious that we will have to focus on the other two teams and on having the best possible ranking compared to the other four groups. The Club World Cup is a legacy of last season's team; we were admitted thanks to the second place we got in the 2021 CEV Champions League. This is a particular event, which changes formula often, but with the presence of Civitanova it grows a lot in level. We are honored and proud to take part in it, we will try to go all the way and, immediately after, we will try to keep the bar straight also in the next matches to be played in Trento and Milan. We like the current ranking very much; it's true that the regular season doesn't count much but it's also true that our goal is always to stay on top as long as possible".
Trentino Volley Srl
Press Office