Trento, 10 May 2022
Albergati to "RTTR Volley": "Kaziyski an idol, Lisinac is extraordinary"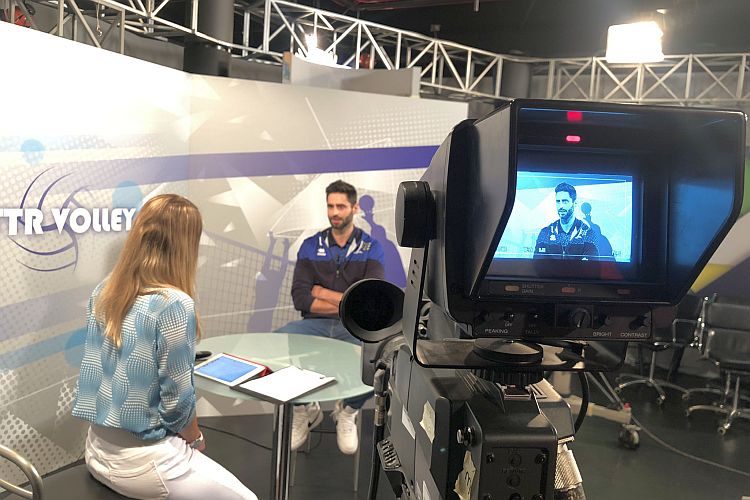 The wing spiker of Itas Trentino Daniele Albergati was the main guest of the weekly episode of "RTTR Volley", the transmission that the media partner of the team RTTR airs and dedicate to Trentino Volley every Monday. Here are some of the most interesting moments of the interview made by Sara Ravanelli.
LORENZETTI. "I have known Angelo for many years, because in the previous season I have always taken part in the project of the summer training that he was having at BLM Group Arena for all the players of Trentino Volley that during the championship had played for different teams. I think that he chose me to be part of the this team for my ability to be malleable, which means being to play with no problem as wing spiker or as opposite spiker, the role I have always played. I worked a lot in this season, in particular in reception and I am happy about the progress I made."
SUPERLEGA. "I came from a championship of Serie A3 and before this season I have never play on the court of the national maximal tournament. At the beginning the worry and the curiosity were feelings that were going hand in hand. However, after few trainings, I was able to play my role, accepting the challenge. The physicality, the strength and the velocity of the ball were factors that increased a lot compared to the other championship and even the trainings are built for the development of the muscles. It is very stimulating training side by side with the champions like Kaziyski, Lisinac and Podrascanin. I could not let escape such an opportunity. For me, Matey has always been an idol, since I have been watching him playing and I was still part of the your area."
LJUBLJANA. "Till now we trained a lot to prepare for the Final of 2022 CEV Champions League, in the next few days we will start to train even harder in the technical and tactical part. The match with Kedzierzyn-Kozle will be of high level, against a very strong opponent. We will be given our all to take home this victory. I watched the previous final on television and now it is beautiful to think about being part of the team that will seek a rematch".
LISINAC. "Srecko was the player who stroke me the most. He has a body that was made to play volleyball, he has a great elevation, he always gets to balls in middle air and then he is explosive. In the centre he is unstoppable. Among the opponents we sure admire Leon or De Cecco."
Trentino Volley Srl
Press Office