Trento, 05 October 2022
Kaziyski to "RTTR Volley": "I was keen on starting well with the jump serve"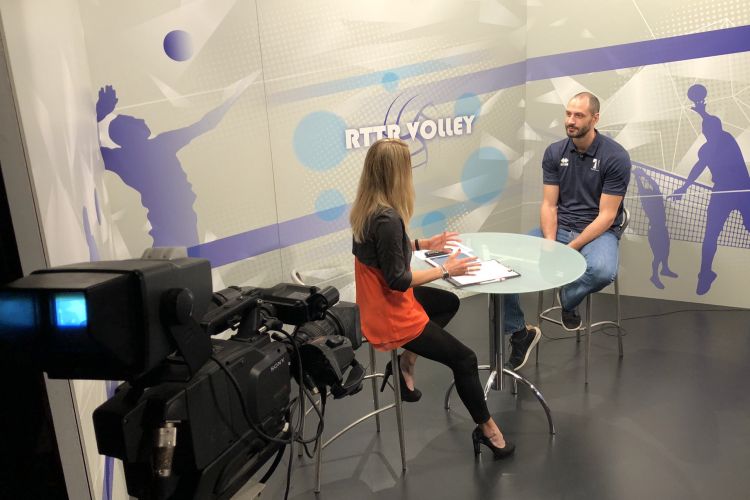 The captain Matey Kaziyski was the guest of the first seasonal episode of RTTR Volley, the program that the yellow-blue's media partner RTTR broadcasts and dedicates to Trentino Volley every Monday. Here are some of the greatest parts of the interview done by Sara Ravanelli.
TENTH SEASON. "I'm extremely motivated as it always happened during the previous nine sport years spent in Trento. I am glad that it was a positive start, not only for the team but also for myself, because, even for me, it was a great surprise to score 26 points in the first match".
SIENA. "On Sunday evening, our opponents tried to hinder us by starting each set well and they actually did it, as the third partial final showed. We could have won that set, too, but we did not make it; we bounced back at the fourth set, still playing a great match overall and putting in play the right attitude. Personally, I was keen on starting well, especially on serve, a fundamental on which we worked hard and that immediately paid off".
PREPARATION. "We faced an extremely long pre-championship work's period; we have been in the gym since August 9th, even with few members. In the first part we worked together with lots of young volleyball players and I hope it has been a useful period both for us and for those guys, who then got back to the Youth Sector's rankings. Little by little we got our members back, but we trained with the whole team only in the last week and it is inevitable that in the upcoming days we have to regain all the time wasted".

ITALIAN JERSEYS. "I supported Lavia, Michieletto and Sbertoli throughout the World Championship and I am happy that they came back home with a golden medal. I personally congratulated them, but I also asked them to pay for dinner in order to celebrate in the best way ever. We will put it in our schedule for the first rest period of this season".
SUPERLEGA. "There have been lots of changings and we need to check and "re-explore" the balance of power between the different teams. First turn's results prove that the so called "big teams" can have some difficulties at prevailing on other teams; I think that the true values will come to light later, after weeks of training. Cisterna and Verona have already been noticed and they could be the time bombs".

ADIGE'S DERBY. "On Saturday in Verona we will play an important match; I hope it will be a great and exciting one, but we expect it to be difficult. We are ready to do our best in order to achieve another positive result".
Trentino Volley Srl
Press Office