Trento, 30 January 2023
6 yellow-blue received by the Pope with the National Teams, Michieletto:"What a moment"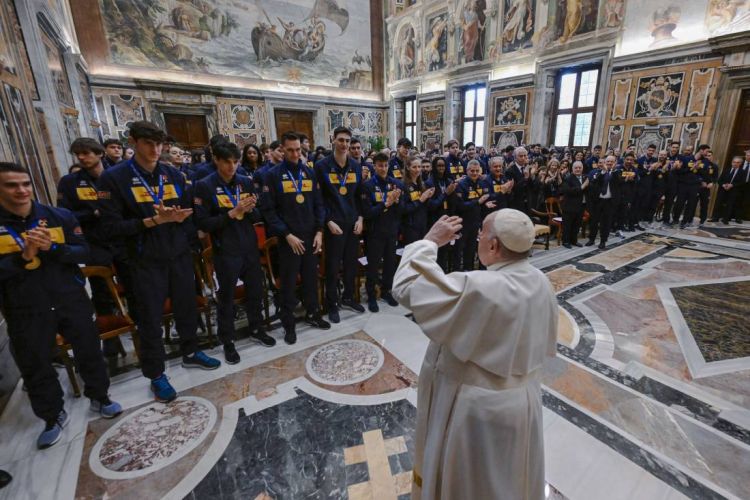 Late this morning, the Italian National Volleyball Teams (men's, women's and youth) were received in a private audience by Pope Francis in Rome. Around midday, in the Clementine Hall of the Apostolic Palace, a delegation of almost 200 athletes and members of the federal staff had the honor of meeting the Pope; among them, also six Trentino Volley players: four from the first team Daniele Lavia, Gabriele Laurenzano, Alessandro Michieletto and Riccardo Sbertoli and two from the Youth Sector Alessandro Bristot and Marco Fedrici. Particularly touching were the words of Pope Francis, who used the five fundamentals of volleyball (serve, reception,attack,set,and block) as a metaphor for the correct behavior to keep during one's life and as an encouragement to continue on the path taken.
"Meeting the Pope was indeed a very strong emotion, one we had never experienced before," explained Alessandro Michieletto at the end of the meeting. "We are proud and happy to have had this opportunity, and we tried to use every moment of the hearing to learn something from his words. I was very impressed by the connection he made between the fundamentals of volleyball and everyday life: they were very touching and important words, which brought us back to everything that happens to us every day, including joys, sufferings and lessons. It was a moment that will remain forever".
The six yellow-blue will return to Trento this evening and will resume training on Tuesday morning, certainly enriched by the moment they experienced today.
Trentino Volley Srl
Press Office