Trento, 22 August 2023
IlT quotidiano Arena, the Italian Champions back at work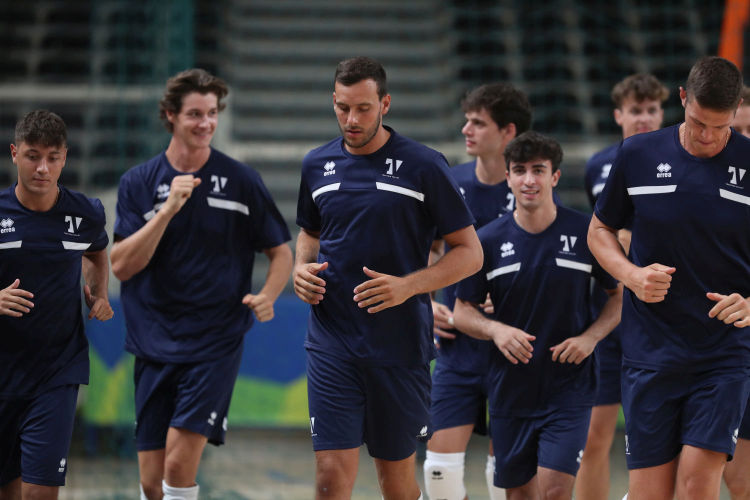 With its national championship title conquered on May 17th, bags and sweaters marked Erreà Sport worn by both players and staff, the Italian Champion Itas Trentino came back this afternoon at ilT quotidiano Arena to start the training for a season in which the team will have to protect the Italian title and attend at least two other competitions apart the SuperLega (Supercoppa and Champions League).
With just under eight weeks until the regular season debut (scheduled for October 22nd in Cisterna di Latina), the yellow-blue line-up officially began its training program today, which, from the kickoff, will feature as many as eight players from the new roster in the gym. The other six, however, are busy with their respective national teams for the upcoming start of the European Championships.
The players who attended the first convocation by the new coach Fabio Soli were the well-known liberos Pace and Laurenzano, the opposite Nelli, the hitter spiker Cavuto, the middle blocker Berger and the neo-yellow-blue Alessandro Acquarone (setter), Giulio Magalini (hitter spiker) and Kamil Rychlicki (opposite). The most interesting factor of this first training session was the hitter spiker (former Perugia player) and the ex-Cisterna coach, who caught the attention of the many journalists present in the arena.
The (temporary) calendar of friendly games is also scheduled, which, at the moment, includes five dates: September 23d in Schio against Modena and then, again and exclusively at ilT quotidiano Arena, October 1st with Milan, October 4th at home with Innsbruck, October 7th with Prata di Pordenone and October 14th again with Modena.
Trentino Volley Srl
Press Office