Kedzierzyn-Kozle (Poland), 25 January 2023
Champions League, Pool D ends without defeats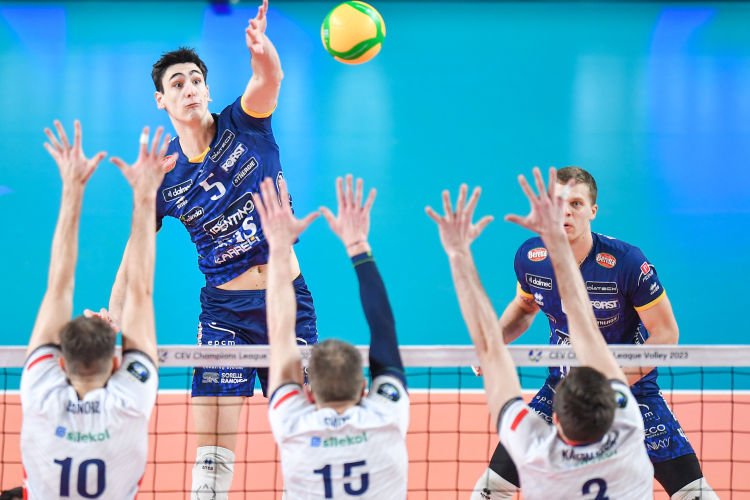 Trentino Itas closes the pool phase of the 2023 CEV Champions League unbeaten and defeated the two-time European reigning champions of Grupa Azoty Kędzierzyn-Koźle.
Tonight, in Poland, the yellow-blue lineup beat the hosts for 3-2 and validated its first final place mathematically conquered two weeks ago in Roeselare, with a turn in advance. This result allows Lorenzetti's team to be the third one in the final scoreboard, after Jastrzebski and Perugia; in the quarterfinals, scheduled for March 8th and 15th, it will compete against Zawiercie (Polish derby's winning team) and Kędzierzyn-Koźle(quarterfinals competition scheduled for February).
In the first two sets, the team was beaten by Grupa Azoty, who went off like a shot on serve and attack with a whole strong attack squad; then, Kaziyski and his teammates did absolutely great at turning the page and found that attitude already seen a day before during the match against Civitanova Marche. Michieletto (20 points with three blocks and one ace), Kaziyski (14) and an absolutely perfect Podrascanin (13 points with 91% in attack, two blocks and one scoring-serve) held the game's reins, firstly by taking the teammates to the direct win in the third set, then to the one at the sprint in the fourth set (scored by Alessandro's block in the one and only chance he had) and in the end to the final win at the tie break. A veritable and useful proof of character, also in view of the upcoming SuperLega appointments, which for a good month will become the team's only thought before a new trip to Poland.
Below is the scoreboard of the sixth turn's match of the Pool D 2023 CEV Champions League, played tonight at the Azoty Arena of Kędzierzyn-Koźle.
Grupa Azoty Kędzierzyn-Koźle-Trentino Itas 2-3
(25-17, 25-15, 18-25, 23-25, 12-15)
GRUPA AZOTY: Sliwka 14, Smith 11, Kaczmarek 16, Bednorz 23, Pashitskii 12, Janusz 2, Shoji (libero); Kluth 1. N.e. Stepien, Wiltenburg, Staszewski, Zalinski, Banach e Huber. Coach Tuomas Sammelvuo.
TRENTINO ITAS: Sbertoli 2, Michieletto 20, Podrascanin 13, Kaziyski 14, Lavia 11, D'Heer 5, Laurenzano (libero); Nelli, Džavoronok 2, Pace. N.e. Berger, Depalma. Coach Angelo Lorenzetti.
REFEREES: Mokry from Martin (Slovakia) and Muha from Zagreb (Croatia)
SET DURATION: 24', 22', 23', 25', 16'; tot 1h and 50'.
NOTES: 2.000 spectators. Grupa Azoty: 11 blocks, 5 aces, 22 serve errors, 6 action errors, 58% in attack, 54% (26%) in reception. Trentino Itas: 11 blocks, 5 aces, 14 serve errors, 9 action errors, 42% in attack, 41% (18%) in reception. MVP Michieletto.
Trentino Volley Srl
Press Office